---
---
---
How are our wineries making the most of quarantine? Staying sane? Here are their dispatches from wine country. 
---
Lange Estate Winery & Vineyard
April 24, 2020
We've all got a little more time on our hands these days so our team decided to give our beloved winery cat, Jack, a bath. 
---
Lady Hill Wines
April 10, 2020
[A quarantined household. A mom with a bottle of great wine. A kid in desperate need of a haircut. Lady Hill brings us a relatable COVID-19 saga.]
---
Left Coast Estate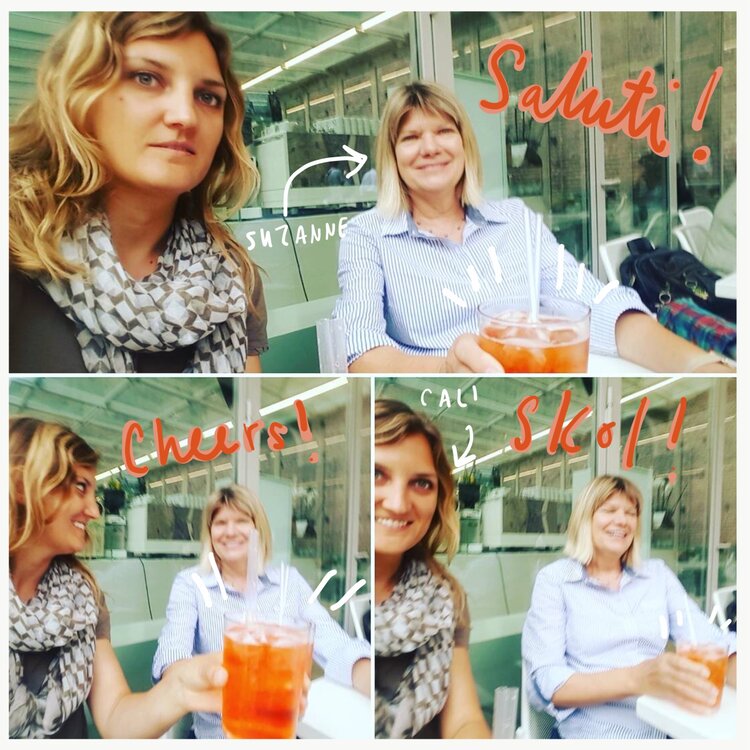 April 3, 2020
[Excerpt from owner Suzanne Larson's blog]
Today I begin a blog series, At Home with Left Coast, that will come to you every two weeks. In it, we will profile the lives and times of core members of the Left Coast Family. In the coming weeks, others will contribute to this, each illustrated by our own Cali. We greatly welcome your own responses and input as well. This is a time for continuing to building community and connectedness. This, I feel, we all need.
At my table for one today, I am feeling the effects of isolation and concern on the part of all of us. So, I am here, granted virtually, to raise a glass to all of you, to wish you all continuing good health and, perhaps, even more difficult, the sustenance of well-being and the optimism that, of course, we shall brave and surmount these extraordinary challenges. Through this series, we plan to feature the lives and faces of those who contribute daily to the wines that you have so generously supported, their lives on property, past and present, and while working remotely as well.
So, today, I begin with me. What's on my plate and in my glass and how I came to both.
---
Plum Hill Vineyards
April 2, 2020
[From Co-Owner Juanita Lint]
I don't feel like we're in a position to donate cash right now, but I found out our local Meals on Wheels needed clean bags for their home food delivery and I had leftover plastic "Thank You" shopping bags that I can no longer use because of the bag ban.  Perfect!  While there, I found out, they also had a shortage of pet food for their MoW clients so I couldn't help but pick up some cat food and drop it off.  I'm committed to helping out where we can.
---
DOMAINE ROY & Fils
April 1, 2020
Our Team: We're grateful to have managed to keep our entire hospitality team employed. We've transferred their daily activities from the tasting room to the vineyard and cellar. They are excited about the opportunity to get their hands dirty and learn more about the reality of viticulture and winemaking. We invite you to follow their journey as they share stories on Instagram.
Virtual Tastings: You can also join our team every Wednesdays at 4:30 PST for Instagram live virtual tastings. Last week, our winemaker Jared Etzel tasted through our Spring Collection.
Giving Back: Because no one should be hungry, we have partnered with Oregon Food Bank to raise funds. Until April 30th, we will donate $10 of every order to the organization and support our community in hopes that we #EmergeStronger.
Pictured: Tasting Room Associate Ally enjoys a change of scene during a week learning how to bottle the winery's estate olive oil.
---
Knudsen Vineyards
march 30, 2020
[Owner Page Knudsen Cowles has been blogging about her time sheltering in place in the cabin her parents built on the estate in 1976.]
Though I have known this property for almost 50 years, each time I set out into the hills I am freshly surprised.
A former cow pasture bordering our vineyard has been vacant for some time. Today, as I hiked past that usually empty field, I found a llama gazing back at me. It seems I have a new neighbor to visit from time to time!
Later, I walked down to a lower part of the property to check on an irrigation pond we use to capture surface runoff. When my father, Cal Knudsen, and former vineyard manager, Allen Holstein, stewarded this land, they engineered a drip-irrigation system fed entirely by renewable water sources from our property. As a result of their pioneering effort, we are fortunate to have six wells with replenishing aquifers and two irrigation ponds that nurture our vineyard in times of water scarcity.
Seeing the pond very full of water this Spring reassured me that our vines will not be unduly thirsty this summer!
---
The Great Oregon Wine Company / Duck Pond Cellars
march 25, 2020
We survived the first week of social distancing and staying home. Here are seven lessons we learned this week in quarantine.
1. Virtual Happy Hours are a thing!
2. Vitamin C packets are an excellent substitution for OJ in a mimosa!
3. Our screen times went up by double digits this week trying to stay connected to colleagues, friends and family.
4. It's a great opportunity to pick up a new hobby.
5. Wine makes a great substitute for weights in your at-home workout.
6. The appropriate attire for a Zoom conference is from the waist up.
7. Any glass becomes a wine glass when you put wine in it.
---
DOMAINE DIVIO
march 23, 2020
This has been a humbling experience that has brought us back to our roots—Oregon roots. The people involved in Willamette Valley Wine have stood the test of time and we continue to rise as a community and succeed together, fighting any storm that comes in our path.
Looking back to the words of Paul Gregutt: "Another great Pinot quote, and I don't know who first said it, but it's 'the iron fist in the velvet glove.' It took me a few years and a lot of wine to understand that quote, but I think it really does kind of hit upon the fact that it's a very subtle and elegant wine. At the same time, it can be a wine of immense power and longevity."
"Power and Longevity." We push through! We continue to show up to care for the vines. Fire, water, drought, viruses will not stand in our way to make the "subtle and elegant" wine the world has come to love. We as a community will continue to come together and curate the wine that we all will continue to enjoy.
Cheers to binding together as a community and refusing to shut down. The vines continue to grow. They do not know that everything has come to a standstill. Let's continue to grow together.
In a world of uncertainty, one thing we can count on is the change of seasons. This week marks a promise of new beginnings. Spring arrives and the time at home gives us a chance to throw open the windows to the fresh, yet chilled air, letting the sun in. Outside some herbs are emerging, inspiring us to dust off old favorite cookbooks that have been forgotten. Opening a bottle of Domaine Divio's 2019 Rosé and having time to sit on the front porch with family, looking through recipes harkens back to a simpler time. Flipping through the dog-eared pages, we come across a tried-and-true favorite: roasted chicken, herbed new potatoes and fresh asparagus. This meal is a celebration of spring! Years of throwing things together have melted away as family members enjoy each other's company, laugh and share stories while preparing a special meal to enjoy. Domaine Divio's 2018 Chardonnay beckons to be opened and paired perfectly when the aroma of the chicken fills the room. Sitting at a table with those closest is the perfect ending to the day. Stay safe and enjoy the time with those you love.
– Sara Weibel, Tasting Room Associate 
Pictured: Bruno and Armando work hard tying the vines. Life continues for our vineyards!
---
REMY WINES
march 23, 2020
Remy Wines just had a conference call team meeting, where we all checked in with each other and gave updates. Lots of us are having trouble sleeping, and when we do, we have weird dreams. A moment of levity ensued when I admitted I had a dream that Jane Fonda came into the tasting room to pick up her club wine. I couldn't find her name on the list, and wondered if she wasn't charged. Annika, our operations manager said, Erin, when Jane Fonda comes into the tasting room just give her the wine! I was hoping we could reach out to Jane Fonda and let her know she's an honorary club member!
– Erin Butler, media and shipping director
Pictured: The Remy Wines team at their last holiday party, pre–social distancing. 
---